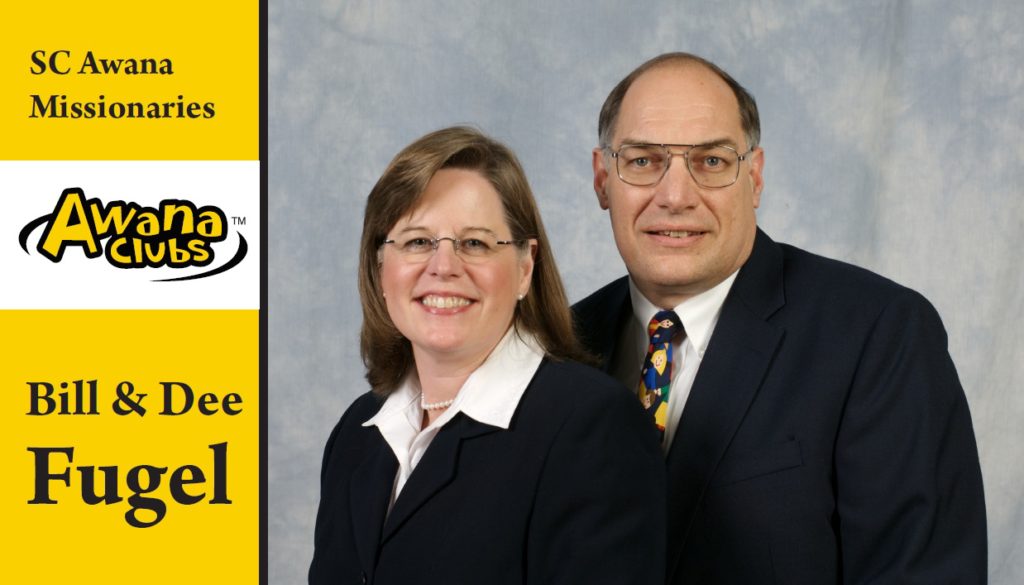 Awana Clubs International Missionaries
What we do: Bill & Dee Fugel have served in Awana for over 40 years – 35 years as laymen in local churches and now 10 years as Awana Missionaries. Their ministry consists of helping churches start and grow their Awana Club in order to reach one more boy, one more girl, or one more family that will come to know God personally, love God intimately, and serve God passionately. In addition to the local church ministry in South Carolina, where they share the vision of the Awana Ministry, train Awana Club Leaders, and host special outreach events like Bible Quiz and Awana Games; they are now focusing on opportunities to partner with local churches to start new Awana Clubs both locally and internationally using short term missions projects. The vision for the ministry is quite simple…. how can we reach MORE KIDS and MORE FAMILIES, because Kids Matter To God!
About us: Bill & Dee Fugel live in upstate South Carolina. They have three grown, married children and two grandchildren who all live in South Carolina. Dee is an avid reader, enjoys cooking, and really enjoys gardening both in her flowerbeds and vegetable garden (which explains her favorite magazine…"Birds and Blooms"). Special activities for Dee are anything that involves the family. Bill's hobbies primarily relate to sports, working in the garden, and taking Gabi & Hank (their grandchildren) on special PaPa adventure walks through the fields and streams where they live.
How to pray for us:  With the new year we have a renewed urgency to reach MORE…. to reach MORE churches, to reach MORE children and MORE families for Christ. We ask for your prayers for wisdom, strength, and power to be able to do MORE in service to our Lord through the Awana ministry.