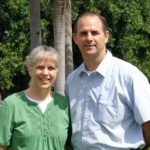 Ron and Tina Fruin are Missionaries through Baptist World Mission, sent out through Falls Baptist Church in Menomonee Falls, Wisconsin. They have been missionaries since 1997 and have been in Cambodia since 2004. The Lord has blessed their ministry in Cambodia and they are currently working with a Church, a Bible Institute, and a Bible College that God has enabled them to start.
http://hisincambodia.zohosites.com/
Latest News Letter From the Fruins
Dear Friends in Christ,
September 2017
"Wherefore seeing we also are compassed about with so great a cloud of witnesses, let us lay aside every weight, and the sin which doth so easily beset us, and let us run with patience the race that is set before us, 2Looking unto Jesus the author and finisher of our faith; who for the joy that was set before him endured the cross, despising the shame, and is set down at the right hand of the throne of God. 3For consider him that endured such contradiction of sinners against himself, lest ye be wearied and faint in your minds" (Hebrews 12:1-3).
Although this past quarter hasn't been filled with activities and glorious victories, it has been one in which we have been learning to continue to be steadfast and faithful. It's exciting when there are visitors and activities going on, when you have the opportunity to see many professions of faith at one time or over many weeks, but it doesn't always happen like that, and we must keep on keeping on through these "quiet times," trusting the Lord to keep using us in spite of ourselves. It seems as if this past quarter has been filled with many little challenges (toilets backing up, bridges under construction, various health issues) and some potential big problems in the future. We appreciate your prayers through all of these.
By the time you get this, the Bible college should be in its final week of the third semester. This is very significant, because it means that the students are midway through their three-year program. Even though we are already halfway, it sometimes seems as if we have only scratched the surface. Before we know it, our part in preparing and training them for the Lord's service will be complete. There is still so much more to give them in that process though. This past quarter, we began a sermon preparation class for those interested in preaching (though not all of them feel called to preach as of yet). We have had some very interesting conversations during this class, and it has opened some wonderful doors of opportunity to talk about various subjects. The students have also been faithfully participating in visitation/soul winning, and we have seen a number of professions of faith, but unfortunately, very little increase in church attendance. Please keep the students in your prayers as they will be helping in a medical clinic the second week of October, which will be followed by a three-week break before the new semester.
Although the church attendance has not increased, it has been fairly stable over the last quarter. It has been exciting to see some faithfulness by those who come, and we have also seen some teenagers from the past come back to visit off and on. One of our prayers for the church over the past year has been a new church permit. In order to get one though, we need a national pastor. We mentioned previously that Maa-paa was willing to become the interim pastor so we could apply for this. Please pray for Maa-paa as we continue to train him for this position (and possibly, the potential future pastor). During the three-week break, he will have some free time to get a background check for himself, so he can then apply to the Baptist NGO to become a pastor under it. This is required before the process of applying for a new church permit can begin. There are many things that have to fall in place for us to be able to get this permit, but we know that "The king's heart is in the hand of the LORD, as the rivers of water: he turneth it whithersoever he will" (Proverbs 21:1).
A present ongoing concern seems to be the political situation here and the tension between the Cambodian government and the United States. We have mentioned in our weekly updates that the United States has implemented restrictions on visas concerning Cambodians who travel to America. This has in turn caused the Cambodian side to enforce stronger visa stipulations for foreigners here. We are not sure if or how this will affect our ability to renew our visa and what new paperwork will be required. There is also much in the news here about international interference in the political realm, which of course, we do not participate in. This has forced the government to expel a number of companies, organizations and agencies out of the country, mostly those from the United States. Please pray that our ability to give out the Gospel and train nationals will not be hindered in any way because of these different situations.
We want to thank you once again for your faithfulness in praying for us and the ministry here. We know it is still a couple of months away, but we would like to wish you a very happy Thanksgiving. (Our next quarterly prayer letter won't come out until around Christmas.) We have so much to be thankful for. It is sometimes easy to focus on our difficulties (looking at ourselves) instead of all that the Lord has done and given us, along with the blessings He still has waiting for us. May we all praise Him daily for His abounding goodness in our lives. Take care and God bless.
Serving the Savior,  
Ron & Tina Fruin
Copyright © 2017 Fruins in Cambodia, All rights reserved.
Our mailing address is:
Fruins in Cambodia11926 W Mill Rd
Unit 25
Milwaukee, WI 53225