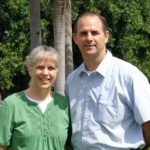 Ron and Tina Fruin are Missionaries through Baptist World Mission, sent out through Falls Baptist Church in Menomonee Falls, Wisconsin. They have been missionaries since 1997 and have been in Cambodia since 2004. The Lord has blessed their ministry in Cambodia and they are currently working with a Church, a Bible Institute, and a Bible College that God has enabled them to start.
http://hisincambodia.zohosites.com/
Latest News Letter From the Fruins
SEED OF THE WEEK
Srī Pik: 10 years old and in the fifth grade; lives with her dad, mom and three siblings. Srī Pik started attending church about a month ago when a friend invited her. She seems very shy and quiet with a very somber disposition, although we have seen her smile once or twice. Please pray that Srī Pik would continue to come faithfully, that she would trust the Lord as her personal Saviour and that she would experience the joy of the Lord in such a way that others would wonder at the change in her countenance and in her life.
BRANCH
Thorns
It is sad to hear about the terrible incidences that happen to children here in Cambodia. They are already facing an up-hill battle because of dominance of false religions, poverty, and the poor educational system, to name a few. Though it has been an issue for years in Cambodia, we have seen a drastic increase recently in child abductions and pedophile arrests. This past week a British school teacher from a private school was apprehended as a pedophile and there have been several kidnappings by foreigners. There are a few reasons for kidnappings, which include selling body parts for transplanting. As we mentioned in previous prayer letters, one of the girls who comes to church was almost kidnapped and our church has been accused by another church of kidnapping (an attempt to try to draw people to their services instead).  As we go out on visitation and outreach, we have noticed that people have become more apprehensive about talking to us and we have seen children run to their homes away from us. When we first arrived, 13 years ago, the opposite was true. Kids would come running out to talk to us and see us. It is sad how the wickedness of some can have such a dramatic effect.
Fruit
One of the blessings of having been here so long is that most everyone knows us and trusts us in the villages we reach out to, unless they are new to the area. Of course, we must be extra careful on how we do things, so we stay above reproach and maintain a godly testimony in the community. Please pray that this situation wouldn't hamper our outreach ministry, but if anything, it would help it, with parents knowing that their children are in a safe place at church instead of playing on the streets where they can be abducted.
BLOSSOM
It has been great to have Jonathon here for the past 6 weeks and it will be hard to say good-bye to him when he returns to America this Wednesday. He has been a great help in many ways, such as helping encourage people to come to church, both those who previously came and new-comers, helping with several computer/technical issues, as well as filling in as a substitute piano teacher at the music school he used to teach at (which is where Rebekah works now). We look forward to seeing both him and Leah in a couple of years, if not sooner. Please pray for his safety as he travels home and for his adjustment as he begins in-service at school the following week.
OTHER REQUESTS:
* Church folks (salvation/spiritual growth, provisions, health needs, unity & love).
* Tera and his family (Repentance and return).
* A national pastor for the Church in Takhmau.
* Rebekah (health, language, safety, and finances).
* Jonathon and Leah (work and ministry responsibilities in America).
* Srī Pōe and Daa Lynn (spiritual growth & jobs).
* New Church permit.
* Bible College (spiritual growth, diligence in study, and unity).
* Revival in America and Cambodia.
* Maa-paa's training and transition.
* Follow-up from Cola-Combat.
* Jonathon's safety as he travels home.
* Health issues.
* Trē's motorcycle, his growth spiritually, and his family's salvation.
* Plumbing issue.
Serving the Saviour,
Ron and Tina Fruin
Copyright © 2017 Fruins in Cambodia, All rights reserved.
Our mailing address is:
Fruins in Cambodia11926 W Mill Rd
Unit 25
Milwaukee, WI 53225