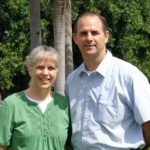 Ron and Tina Fruin are Missionaries through Baptist World Mission, sent out through Falls Baptist Church in Menomonee Falls, Wisconsin. They have been missionaries since 1997 and have been in Cambodia since 2004. The Lord has blessed their ministry in Cambodia and they are currently working with a Church, a Bible Institute, and a Bible College that God has enabled them to start.
http://hisincambodia.zohosites.com/
Dear Friends in Christ,                                                              December 2017
"Wherefore gird up the loins of your mind, be sober, and hope to the end for the grace that is to be brought unto you at the revelation of Jesus Christ; 18Forasmuch as ye know that ye were not redeemed with corruptible things, as silver and gold, from your vain conversation received by tradition from your fathers; 19But with the precious blood of Christ, as of a lamb without blemish and without spot: 20Who verily was foreordained before the foundation of the world, but was manifest in these last times for you," (I Peter 1:13, 18-20).
What an awesome Christmas gift, much more precious than silver and gold—the blood of the eternal lamb of God, God Himself. If we could only meditate on this truth, instead of being distracted by all of the things that the world wants us to focus on, Christmas would be a much more joyous time of year! We pray that each of you has a very merry Christ-centered Christmas. We also hope that you have a wonderful new year in 2018. This may be the year that our Lord comes to take us to Himself. As we approach the new year, it affords us a great opportunity to reflect on the previous year and to evaluate the areas we must change in order to conform less to the world and plead with the Holy Spirit to transform us so we might reflect Christ more.
Shortly before sending out this letter, we will have had a Christmas fellowship for all of the past and present Bible college and Bible institute students. We have tried to make it a special time of fellowship and encouragement for them, since they are so busy ministering to and serving others through the year, but especially during the Christmas season.
On Sunday, probably the day you receive this letter, we will have held a special Christmas service at our church. Included in that was singing, special music, and most importantly, a focus on the true gift of Christmas, as Ron had Maa-paa share the Christmas story. All of that was followed by a small lunch. We want to thank those who have been praying for Maa-paa as we try to transition him into becoming the intern pastor of the church. He was accepted by the Baptist NGO, so now we can start the process of trying to get the church permit renewed. It usually takes months for this to happen, so we would appreciate your continued prayers. It is necessary for us to have this in order to be able to witness in the area legally. We are very excited the church is going through a small growth spurt, with many former attenders returning. Ron is taking time preaching through the book of Romans, giving those who come a thorough understanding of the Gospel. There is no doubt that they know the facts; it just has to sink down into their hearts.
Thank you once again for your faithfulness to the ministry here in Cambodia. Your e-mails, letters and cards have been a blessing and spiritually uplifting. We are also very grateful for your prayers for us and the ministry here. They not only encourage us, but they empower us to do the work the Lord would have us to do here. Take care and God bless.
Thank you as well for your prayers for our family. Rebekah continues to teach many classes in the Bible college, along with leading the children's ministry at church and working 20-plus hours teaching piano at a private music school. She is definitely an integral part of the ministry here, and we praise the Lord for the sacrifices she has made to serve in Cambodia. She recently stepped out of her comfort zone by directing the college students in a short dramatic reading, which was performed at the Christmas fellowship.  Leah is very busy in her secretarial position and not so long ago, started to teach a Sunday school class, which she has thoroughly enjoyed. Both she and Jonathon are very active at church and recently participated in the "Christmas Carol." They sang in the choir and were also cast as Joseph and Mary. As for Jonathon, he has been overseeing all the holiday programs at the school where he teaches music, which has enabled him to use his musical training, organizational skills and designing abilities. Jonathon recently accepted a new responsibility to help with the sound at church, which enables him to use some of the things he is learning from his online college classes.
Please also pray for us as we look for a new house and building for the Bible college. Traffic on the road in front of the house has tripled or quadrupled since we moved here eight years ago. It is loud and dirty, and new shops are opening up in the vicinity every day, causing problems for us to be able to get in and out of our house and Bible college. We need to find a new place before returning for furlough in April of 2019, as our contract will end then, but it would be nice to find a place much sooner.
Please continue to pray for the political situation here. Things have only gotten worse over the past few months. The government is cracking down in different areas, especially anything involving foreign interests. The process to renew visas has become much more difficult and complex, and some people we have talked to are shocked by how suddenly things have changed. We know the heart of the king is in the hands of the Lord and we continue to rest in this.
As many of you probably already know, we are over halfway through the three-year study program in the Bible college. The fourth of six semesters started at the beginning of November and will run until the beginning of April. Thank you to those who prayed for the medical clinics that the students helped in shortly after our last quarterly prayer letter. The clinics went well and were a good learning experience for each of the students. Many times, the Lord uses such opportunities to help individuals know His will for their lives. We are praying that the students are tender to these things, and that before they graduate, they will understand what the Lord would have them to do with their lives.
Serving the Savior,
Ron & Tina Fruin
Goals for 2018
Church – Spiritual Growth, Church Attendance, Church Permit, Maa-paa' transition to pastor
Bible College – Spiritual Growth, Dedication to Service (last full year of training), Diligence in Studies, Proficiency in Subjects
Personal – Spiritual Growth, Faithfulness to Ministry, Preparation for Furlough (preaching/training materials for church here, presentations, sermons, scheduling and furlough related details)
Copyright © 2017 Fruins in Cambodia, All rights reserved.
Our mailing address is:
Fruins in Cambodia11926 W Mill Rd
Unit 25
Milwaukee, WI 53225