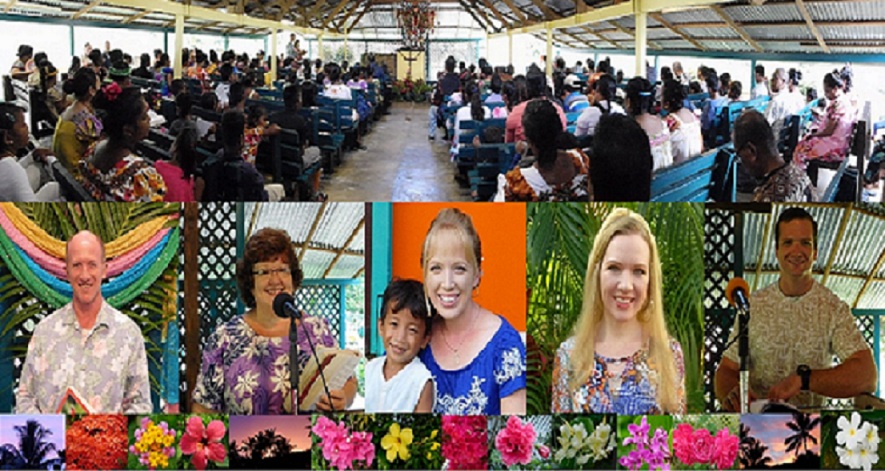 The Colsons have been serving with Baptist Mid-Missions since 1988. After ministering in Hawaii for several years, the Colson family moved to Chuuk, Micronesia in 1997 where they and their grown children continue to serve the Lord today. Jody is the pastor of Bible Baptist Church, and his wife Terry runs the programming for their radio station, which reaches many of the islands and villages in Chuuk, Micronesia every day, with the Gospel of Jesus Christ. The Colsons are training their people to be soul-winners, and to lead other Chuukese people to the Lord. God is blessing their ministry with people being saved and baptized and added to the church.
Terry and Jody's Facebook Page
Hello and Merry Christmas!
Thank you for praying for our family and the ministry here in Chuuk.  We had a great day in church yesterday, with five baptised and two more who received Christ after the evening service.  It's great to serve the Lord in a place where people's hearts are open to the Gospel.
As for each of us, Matthew and Andrea continue to travel across the island several times a week to work with the great folks at Kilisou Baptist Church in Wichap.  They also help Jody, Alisha and me with our services here at Bible Baptist Church in Nantaku where we all live.  We all spend a large part of every day working on radio programs, and Matthew has been spending several hours a day changing our 16-hour-daily radio schedule to Christmas music.  Thankfully we have recorded hundreds of songs and programs over the years, all in Chuukese, so there are plenty to choose from!  Alisha is writing, recording and producing a weekly radio drama that plays every Sunday night after church.  It has become a real hit across the islands.
Jody is in Guam for a couple of days getting some much needed (and procrastinated) dental work done as well as having some skin cancers removed. Next month we will have our 38th wedding anniversary.  We used to be so young!  But like the Mayberry doctor told Aunt Bea, "We're no spring chickens anymore!"
We hope you have a wonderful December with your friends and family.  Thank you again for remembering us.
Love, Jody and Terry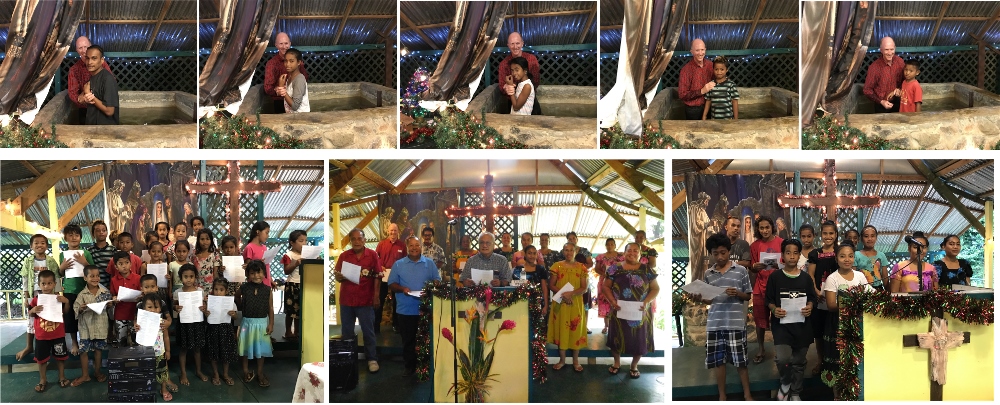 From Andrea

Hi everyone,
I hope that you have had a terrific 2018 so far.  This week my dad had to go to Guam for more appointments at the skin cancer doctor, and I was able to go along.  A Chuukese girl worked at the counter of the hotel where we stayed, and while we were there my dad got to lead her to the Lord.  Later she told me, I am so happy now!
On Guam I got to do some shopping for our children in Chuuk, and have a box full of little girls' dresses to take with me to Wichap in the morning.  I can't wait to find out which dress fits whom, and take lots of pictures.  Our girls wear the dresses we give them every Sunday and Wednesday, and most days in between.  Thank you to all our friends who have sent children's clothes, you are truly helping to clothe the naked.  The store also had baby blankets for sale, and today I gave a new blanket to this precious newborn boy.  How wonderful to lead his mother and grandmother to the Lord as he slept peacefully.
In the surgical ward I saw a poor lady on a bed in the corner, and went over to give her a Gospel tract.  When I asked if she had ever received Christ, she said no.  I asked my friend Elicy to come and share the Gospel with her, and the lady was eager to pray and invite Jesus into her heart.  I snapped a picture of them as they prayed together.  What a blessing to stand by and watch a Chuukese lady lead another Chuukese lady to the Lord.
Thank you for praying for our family as we serve the Lord in Chuuk!  Good night from the islands, and have a wonderful Sunday.
Love, Andrea
From Matthew
Merry Christmas from Chuuk!
Things have been going great and it's been a very busy Christmas Season for far this year.
Each week I preach at Kilisou Baptist Church in the morning and at Bible Baptist Church in the evening. Thank the Lord, both churches were full yesterday!