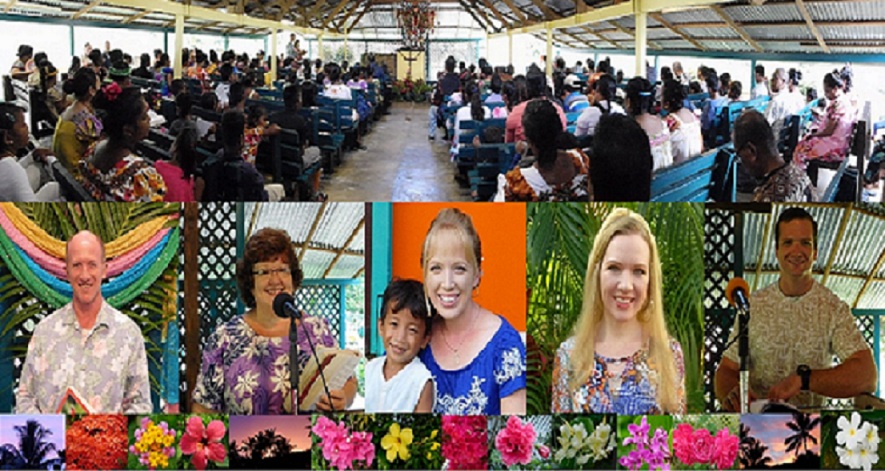 The Colsons have been serving with Baptist Mid-Missions since 1988. After ministering in Hawaii for several years, the Colson family moved to Chuuk, Micronesia in 1997 where they and their grown children continue to serve the Lord today. Jody is the pastor of Bible Baptist Church, and his wife Terry runs the programming for their radio station, which reaches many of the islands and villages in Chuuk, Micronesia every day, with the Gospel of Jesus Christ. The Colsons are training their people to be soul-winners, and to lead other Chuukese people to the Lord. God is blessing their ministry with people being saved and baptized and added to the church.
Terry and Jody's Facebook Page
Hello everyone,
In case you've been wondering where we are in relation to Guam, we are 635 miles south.  When we want to go anywhere, we fly to Guam first.  Most of the people in our church have family members living there, so we have been very concerned about the situation with North Korea.  Matthew and I (Terry) did a special live broadcast on the radio Sunday night, explaining the news and asking everyone to pray.  Thank the Lord it sounds like things may be cooling down a little.
We have also been cooling down in other ways.  After 20+ years of living in tropical heat that "feels like" 116-118 degrees every day, we finally got a window unit air conditioner.  We put it in the radio room and pointed it toward the kitchen/living area.  It's amazing the difference it makes!  Now if the power will just stay on…Andrea did an amazing video for Facebook a few days ago, and I wanted to share it with you in case you missed it.  She shared her thoughts on being a missionary.  I'm so glad the Lord has called her, and Alisha and Matthew to continue to serve Him here.  You can watch it by clicking on this link:  Andrea's Video
Alisha has started a new radio program.  We call it "Sunday Night Sipai"  (sipai is the Chuukese word for "skit" or "play").  She writes a script using a Bible story, then the adults read their parts when she coaches them and records them.  Then she edits all the parts, puts them in order with music and sound effects, and we play the new program on the radio Sunday night after church.  Here's a recording of the story we played last Sunday night.  You can click the link to hear it:  Cain and Abel
Matthew is teaching Tae Kwon Do classes and I help him with the children.  I took this video last week.  The kids are so cute, and they really want to learn, especially the self-defense parts.  They try so hard, but sometimes it's difficult to get them to break a bad habit, like repeating EVERYTHING that Matthew says, Ha~ Here's a link to the short video:  Matthew's Tae Kwon Do Class for Kids
Jody stays very busy with the church, hospital visitation, recording his daily Bible lesson for the radio, going to the store and the post office, and fixing everything that breaks around here.  Here's a picture Andrea took of him at the hospital last week, with a young man he led to the Lord that day.
Thank you for remembering to pray for us and for supporting our family financially.  Without your help we could not continue on for the Lord.
God bless you!
Love in Jesus,
Jody, Terry and family
Phil. 4:19
From Matthew
Hello from Chuuk,
Well, things certainly been busy around here lately!  Thank the Lord that the churches are going well.  Resty, a very faithful man in our church, preached this morning at Bible Baptist Church.  He did a great job, at least so everyone tells me…I was out preaching at Kilisou Baptist Church.  I'll have to listen to his sermon when it plays on the radio next week…
Speaking of our radio station, I have great news.  Kintin, one of the men from Kilisou Baptist recently went to Murilo which is a small coral atoll about 65 miles outside of the Chuuk Lagoon.  When he came back he told us that everyone out there is listening to our station!  He said that they all sit there gathered around a big radio attached to an antenna that they put high up in a tree and listen to all of the sermons and songs that play everyday on Bible Baptist Radio!
Hospital visitation also went great yesterday.  We've been going to the hospital on visitation every Saturday for the past twenty years, and we've had the opportunity to lead many people to the Lord over the years.  As I was standing outside one of the hospital rooms a teenage boy, who knew me, came out and asked me to go in and "preach" to his father.  When I went into the room Alben looked up and smiled really big and said, "I know your voice! You're the preacher on the Baptist radio!"  It was great being able to speak to him for a little while, but I didn't need to lead him to the Lord, Alben had already accepted Christ while listening to my sermons play on the radio!  This past week I was in a store buying some bread and snacks for the church folks that come to our Saturday morning Bible study, and a man walked up smiling and immediately shook my hand and was very exited to see me again.  When a family member of his was in Intensive Care about a year or so ago I had visited them and witnessed to him and his family.  He told me that he remembered my coming to see them, sharing the Gospel with them, and they all prayed to receive Christ.  I had also given them a radio that they took home to the outer village where they live and they've been listening every day.  He told me that he has especially been enjoying the series on Revelation I've been teaching through on our station.