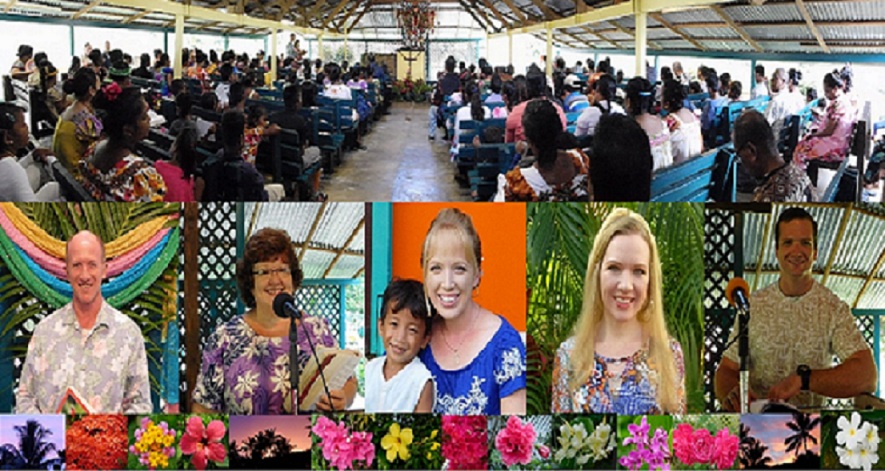 The Colsons have been serving with Baptist Mid-Missions since 1988. After ministering in Hawaii for several years, the Colson family moved to Chuuk, Micronesia in 1997 where they and their grown children continue to serve the Lord today. Jody is the pastor of Bible Baptist Church, and his wife Terry runs the programming for their radio station, which reaches many of the islands and villages in Chuuk, Micronesia every day, with the Gospel of Jesus Christ. The Colsons are training their people to be soul-winners, and to lead other Chuukese people to the Lord. God is blessing their ministry with people being saved and baptized and added to the church.
Terry and Jody's Facebook Page
Hi everybody,
Well, twenty years ago today our family moved to Chuuk.  Jody had been here 11 times before, visiting families of those saved through our church in Hawaii, but for Andrea, Alisha, Matthew and me, it was a totally new experience.  As I was recording the weather report to play on the radio today, I remembered the pilot telling us just before we landed that first time that the temperature was 90 degrees.  Chuuk is the only place I've ever been where you automatically start sweating as soon as you get off the plane.
Through the years we have seen the Lord do some really amazing things.  Many people have been saved, baptized, and learned how to lead others to Christ.  Some of our friends have already gone on to heaven.  I nearly went there myself in 2005 when I had surgery for a brain tumor.  I sure am glad the Lord let me stay here.  I think the last 10 years were better than the first 10, watching the churches grow, getting the radio stations going, but especially living to see Andrea, Alisha and Matthew become really fantastic missionaries to the Chuukese people.  They are doing Vacation Bible School in the village church on the other side of the island this week.  Jody and I are home running the radio, cooking lunch (which is harder than you think since the ship was delayed and the tuna aren't running now) and having daily church activities here.  Oh yes, and tending to Betty, Matthew's new puppy.  She's a sweetheart.
So, we want to say "Thank you" to the Lord, and to you, for supporting us all these years.  God has been good to us.  If you would like to see pictures of what we do here, and even some scenery and flower pictures, please visit our Facebook pages.  I'll insert a few pictures here too.  And thank you for your prayers.  It's been a long time since we have seen most of our supporters face to face, but you are always in our hearts.
Love in Jesus,
Terry, Jody, Andrea, Alisha and Matthew
"The Lord hath done great things for us, whereof we are glad."